Luxury Vinyl Flooring in Nottingham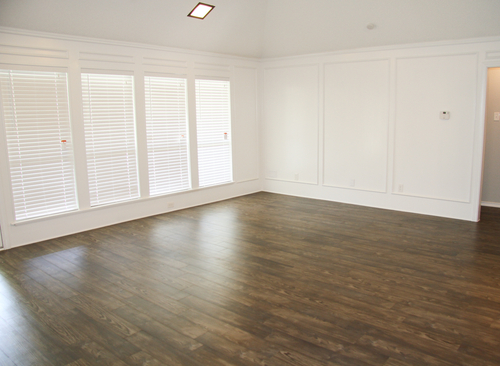 Luxury Vinyl Flooring Installation in Nottingham
Many homeowners prefer luxury vinyl flooring for those homes because it is high-quality, affordable, waterproof, noise resistant, and scratch resistant. By installing luxury vinyl flooring in your home you can upgrade your room with an attractive look that provides both a timeless look and an a maintenance free solution. At Flawless Floors, we have installed luxury vinyl flooring in bathrooms, kitchens, laundry rooms, and even basements! So if you are ready to upgrade your home without the cost of installing traditional hardwood floors give us a call to talk about luxury vinyl flooring installation in Nottingham. We have many samples that we can bring to your home so you can visualize what your room will look like! Call us today to get started! 
Benefits of Luxury Vinyl Flooring in Nottingham
Luxury vinyl flooring is a great flooring option because of its ability to replicate tile and hardwood flooring. Here are 4 benefits to installing luxury vinyl flooring in your home!
Easy Installation
One big advantage of luxury vinyl is that it can be installed almost anywhere, including basements and rooms prone to water and moisture. It can also be installed over existing flooring. Because of its ease of installation, installation costs also tend to cost less than other flooring options. It is also the easiest flooring to install yourself.
Design Options
Luxury vinyl flooring has the largest variety of styles and design to choose from. Luxury vinyl can replicate both tile and hardwood with realistic patterns and textures that can make it difficult to know the difference. Because luxury vinyl comes in either tiles or planks, it even has realistic grooves between the tiles/planks, giving it a great advantage over other vinyl options, like sheet vinyl.
Durability
Luxury vinyl is one of the most durable flooring options out there. It can withstand water and moisture, as well as wear and tear. It is also stain and scratch resistant. This durability makes it an ideal flooring option for where water may be an issue, like basements or bathrooms, as well as rooms with heavy traffic.
Low Maintenance
The only maintenance that is necessary to keep luxury vinyl looking beautiful is sweeping and mopping to remove dirt and dust. There is no special care or cleaners needed to keep the flooring well maintained.
Flawless Floors Service Area.
At Flawless Floors, we are proud to serve the following areas!
Baltimore, Perry Hall, White Marsh, Towson, Middle River, Lutherville, Timonium, Cockeysville, Bel Air, Kingsville, Parkville, Nottingham, Middle River, Rosedale, Parkville, Overlea, Carney, Loch Raven, Glen Arm, Forest Hill, Phoenix, Hydes, Sparks, Fork, Fallston, Jarrettsville, Roland Park, Rosedale, Rogers Forge, Baldwin, Joppa, Bowleys Quarters, and Long Green.
Don't see your town or city listed, give us a call!
Request Your Free Estimate from Flawless Floors